The Motorcycle Handbook
"A Real World Motorcyclist's Guide"
By John Hanney B.Sc.
Published by The Bike Yard
Review by Steve Bond
I wish there had been a book like The Motorcycle Handbook when I first started riding. I had so many questions about motorcycling and there was no one to answer them. Most, if not all, that I've learned over the years (and I won't say how many) have been from first hand experience and trial and error.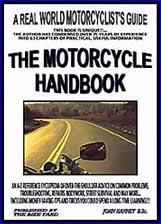 John Hanney, owner of The Bike Yard Motorcycle Shop in Toronto has condensed over 25 years of experience into 63 chapters of practical, useful information. He calls it "An A-Z reference cyclepedia of over the shoulder advice on common problems, troubleshooting, repairs, bodywork, street survival and way more." The book includes money saving tips and tricks you could spend a long time learning firsthand.
The section on "Street Survival" is worth the price of admission for the novice and should be reviewed by the more experienced among us as well. Some tips offered could save your life, yet those of us who have ridden for a long time forget how we learned these valuable lessons. In some cases, I'm sure it was at the expense of bent forks or pieces of our tender young bodies. Safety mantras such as, "constantly evaluate the road surface you are riding on," "ride to the left or right of the lane center," and "ride as if you are invisible," have saved my bacon on many separate occasions.
In one sub-section, Mr. Hanney stresses learning about counter-steering, yet doesn't explain what the technique is or how to do it. And, if there's one fault to the book, it's that some topics are left fairly vague and aren't covered in detail. This is something that John admits to in the "About The Book" section on page 4. He says that the background information is very general in content and also has a caveat stressing that you shouldn't attempt any operations from this book without consulting the specific workshop manual for your bike.
The Motorcycle Handbook is composed of chapters on various motorcycle-related topics indexed alphabetically. Thus, "ergonomics" comes after "engine noises," but before "exhaust system."
My general impression is that this book is geared to the novice motorcyclist rather than the graybeards among us who have been riding for a hundred years or more, and in that vein, the book is right on the money. Shop manuals will give specifications on say, valve timing, but how is the novice to know exactly what valve timing is and why it's so important?
There are a few excellent chapters that should serve the beginning rider well. For example, the section on tires is top notch. It explains that the 2 inch contact patch is the only thing between your bike and the road and stresses the fact that you shouldn't cheap out on rubber. It explains the sizing chart for metric versus inch sizing and explains the speed rating of the various letters and numbers stamped on the carcass. (The tire carcass, not your own)
There's a chapter on the various tools a motorcyclist should have available and I certainly can't fault John's choice in that matter, although it's taken me a number of years to accumulate my collection, and I still don't have some of the bits John suggest owning.
Other chapters worth noting are the ones covering Selling Your Motorcycle, Buying a Used Motorcycle and First Bike. "Ergonomics" is all about changing comfort elements such as seat, backrest and handlebars on your bike to fit your own personal preferences. I found it curious that he failed to mention adjusting the position of the levers, which I find is one of the more simpler things you can do to make a bike fit you better.
Another topic curious by its absence would be the subject of suspension. The book goes into great detail about the front forks and changing fork seals, yet ignores the rear shock (or shocks) completely. Also absent are the topics of springing and damping, terms that any novice reading a motorcycle road test would come across and, no doubt would like an explanation.
For the next edition, I would suggest grouping the chapters by type rather than alphabetically. For example, "suspension" would have sub-headings of "tires, forks, shocks, etc." "Engine" could list "ignition, cooling system, timing," and so on.
All in all, "The Motorcycle Handbook" should prove to be a valuable tool and reference manual for the beginner or intermediate rider.
For more information on "The Motorcycle Handbook" contact John Hanney at:
The Bike Yard
19659 Airport Road
Caledon, ON
Canada L7K 2K5
(800) 962-8372
www.bikeyard.com